Powder Coating Capabilities
Liftco is excited to announce that in September 2005 we began receiving our powder coating line for installation. Within two weeks of receiving the final pieces the powder coat system was up and running. Starting on November 1st of 2005 LIFTCO began providing an efficient, high quality, and timely powder coating option to almost anyone.
With the Midwest Finishing Systems wash and curing conveyor line system in conjunction with the Nordson Vantage RCM Series Spray Booth we now have a state of the art powder coating system available, which allows us to coat our own parts for production as well as having the ability to rapidly produce high quality finished parts for customer approval. The advantage of a continuous track powder coating system outweighs the advantages of a batch oven by allowing us to hang and run parts at a very affordable price no matter what the quantity.
With all the Midwest Finishing Systems controls running through an innovative touch panel control interface we can consistently monitor the line speed, 3 stage washing system, dry off oven temperature and the cure oven temperature by simply pressing a few diagnostics displays. Along with the negative pressure fans this allows us to maintain consistent oven temperatures for maximum productivity. The flexibility of our 350 foot line system allows us to build racking systems to hang a wide range of part sizes and shapes.
Take all of those advantages and couple them with the Nordson Vantage RCM Series Spray Booth (which allows for removable collector modules for fast color changes and the ability to use fluidized powder reclaim in continuous production) and we have near endless capabilities for powder coating. The spray booth gives multiple locations for powder sprayers so we can position people appropriately to ensure maximum part coverage without interrupting production.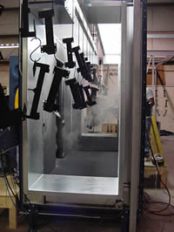 If you would like to see how our powder coating system can benefit your company please contact our powder coating team by emailing powdercoat@liftcoinc.com. If you would like to contact us by phone at 574-266-5551 please feel free!